PluginsMonitorFree - Free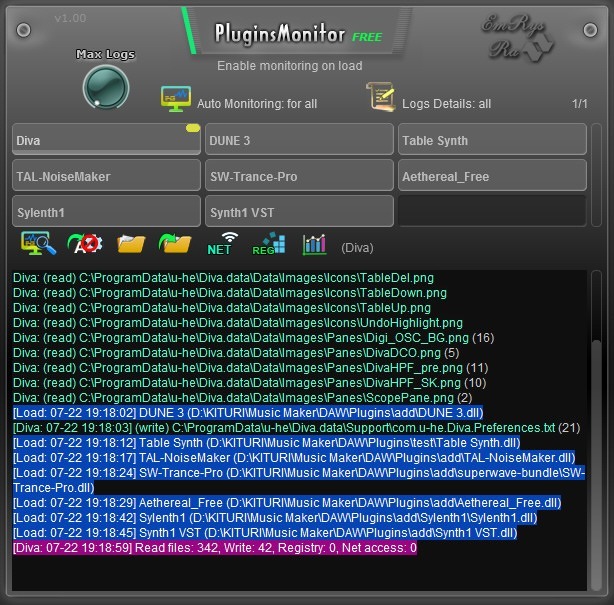 Download free: only logged users

Introducing PluginsMonitorFree:

Safeguarding of Music Production in your DAW

PluginsMonitor scans your plugins and checks for any potential malware or spyware behavior.

This plugin doesn't generate or process sound but aids other plugins in functioning safely and optimally. Because of this, it's essential for any musician.

Now you can create your music safely!

The market is flooded with unverified plugins. How can you be certain these plugins don't engage in background activities that could compromise your computer's security?

Plugins execute code in your DAW, allowing them to access private files, make modifications, or even delete them. They might transmit data from your computer to the internet without your knowledge, and in some cases, they could even share your projects online.

Antivirus software isn't enough

as it relies on plugin signatures. There's often a gap before new plugins are included in databases, allowing them to go unnoticed for months or even years.

Firewalls are inadequate too

, as they focus on the DAW's internet connection rather than individual plugins operating under the DAW.

The solution for your safety is PluginsMonitor

. It can detect any unauthorized access, modifications, or deletions of your files in real time, identifying the responsible plugin. It's capable of recognizing internet connections and data transfers on a per-plugin basis. While PluginsMonitor won't identify specific plugins as malware, it provides insight into potentially suspicious activities.

You have the option to block various actions: reading files, writing files, accessing and modifying the registry, and internet access. It's important to note that this feature disables particular functions, though some plugins might cause DAW crashes due to their unsafe design.

PluginsMonitor can also automatically monitor plugins as they're loaded.

We take pride in PluginsMonitor's efficiency. It scans your plugins with

minimal resource consumption

, virtually zero! Notably, it only scans plugins, not DAW activity. We assume that DAW software prioritizes security and data integrity.

The free version scans one plugin at a time. For concurrent scanning of multiple plugins, opt for the

commercial version

. Keep in mind that certain plugins with multiple modules require the commercial version for comprehensive scanning.

Unfortunately, Apple OS's security system doesn't support cross-module scanning. This system has a drawback: plugins cannot be scanned and there is no security checking in compensation. So PluginsMonitor cannot work on this operating system.

PluginsMonitor works

across audio protocols

. For instance, VST2 PluginsMonitor can scan VST3 and other plugin types.

Platform bridging between x32 and x64 isn't seamless. If your DAW is x32 bits, use the x32 version of PluginsMonitor, which can only monitor x32 bits plugins. This requirement applies to x64 bits as well.

PluginsMonitor can assist in diagnosing non-functional plugins. Logs provide insight into attempted file accesses, revealing missing modules and samples required by plugins for your projects.

Features:

Scans plugins for unauthorized file access, modifications, or deletions
Scans plugins for registry access and modifications
Monitors plugins for internet activity, displaying server addresses and transmitted data
Offers the ability to block plugin actions related to file and registry access, as well as internet connectivity
Provides automated monitoring upon plugin loading

Audio Plugins Anti-Malware (APAM) technology is an intellectual property of EmRysRa. Please contact us if you intend to use it in your DAW or with your plugins.

Requirements:

DAW (VST2 or VST3 host), Windows 32/64bits

Tested and works on: Studio One, Reaper (x32 and x64), Cakewalk by Bandlab (x32 and x64), FL Studio, MixCraft (x32 and x64), Cubase, Bitwig (without unload), Adobe Audition (without unload), Ardour, VSTHost (x32 and x64) and BrainWaveProducer (x32 and x64)

Not works: Ableton, LMMS

How to Install - instructions page specific for PluginsMonitorFree and EULA.

Changelog:

1.1 (2023-08-19)

UPDATE: improved code and added detection of read folders.

1.0 (2023-08-05)

User Manual:

A knob for setting the maximum number of logs per plugin.
An information area, activates when hovering the mouse over a specific active button/knob.
Clicking here, you can use the dropdown to select auto-monitoring settings: for all plugins (the quickest option), per project (valid for project plugins), or per individual plugin.
Log detail level: "all" or "minimal" mode. Opting for all logs provides information from the beginning, highlighting potential suspicious activities and actions that might compromise your security.
The number of monitored plugins from the maximum possible number.
Boxes for plugins, featuring plugin names, instance counts, and color-coded indicators reflecting activity levels. Blue signifies no suspicious activity, yellow indicates activity, and red denotes instances where the plugin reads files and accesses the internet.
A toolbox with buttons for monitoring, auto-monitoring, blocking file reads, blocking file writes or modifications, blocking internet access, blocking registry access, and a statistics button for the plugin.
Log areas colored by activity type.
A context menu that appears when you right-click the mouse.

BrainWaveProducer

offers you the easyest way to test your VST2 plugins for malware or malicious activity. Moreover, it's free:

Download the application from https://www.saschart.com/download_brain_wave_producer
Extract the contents of the archive.
Launch the BrainWaveProducer executable.
Drag and drop the PluginsMonitor onto BrainWaveProducer.
Drag and drop the VST2 plugin you wish to check.

Check if a plugin has the potential to make malicious actions

Set Logs Details (4) to

all

. Load the plugin and check the logs, all possible actions which the plugin can do will be written on the first plugin logs.

Check the warning level for a plugin

Load the plugin then click on the related box (6), make active monitoring then just click on the last icon in the tool (7) that appears under the plugin boxes. There you will see the

Warn level

with four possible levels, level 3 is the

most dangerous

.

PluginsMonitor as antimalware

If the red light comes on in the plugin box (6) and the logs indicate activities of harmful for your computer, immediately block access to your files and registry (if there is activity) then close the plugin from the DAW.

PluginsMonitor as antispyware

If the red light comes on in the plugin box (6) and the logs indicate that your files are sent over the Internet, immediately block access to net and your files then close the plugin from the DAW. Another important aspect: spyware programs scan the

user documents

folder directly. A harmless plugin has no reason to scan it, only scans subdirectories in user documents (their folders). Our program will color this activity in red in the logs.

PluginsMonitor as net monitor

This program can monitor internet activity with

unprecedented precision

. Thus it can tell us exactly which plugin connects to the Internet. This was impossible before PluginsMonitor. For this it is enough to check the logs.

PluginsMonitor as firewall

It can block the plugins from accessing the internet with the same unprecedented precision. Until now, no program and no firewall could block a plugin from accessing the Internet. Load the plugin, click on the related box (6), then just click on the NET icon in the tool (7) that appears under the plugin boxes.

Tips:

You can also discover valuable information by hovering over the knobs with the mouse.
For keyboard input: hover over the knob, right-click, input the value from the keyboard, then press enter.
To reset to the default value: double-click on the knob.

Keywords:

music

, ,

best antimalware

,

firewall

,

plugins

,

sound

,

antivirus

,

pluginsmonitorfree

,

antimalware

,

plugin

,

security

,

free

,

scanning

,

audio plugin

If you like this free product, please support our work making a donation. Without your donation
we can not continue to create other cool plugins!

Users comments
Best program for your music production security.
Today I did some tests to see which is the best program that can offer you maximum security for your music production.
The result is obviously in favor of PluginsMonitor.
https://youtu.be/Nm7_Xa_yU6g
Date: 2023-08-20 by
EmRysRa
Instructional video on YouTube
Some indications that can help you to use this program


Date: 2023-08-15 by
EmRysRa
https://www.ibloc.org/aplicatia_e_bloc_s