BinauralGenerator - Free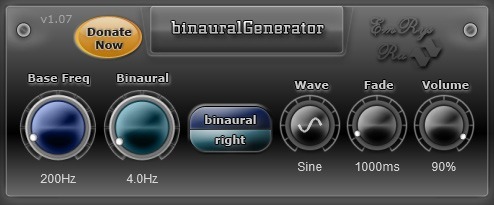 Download free: only logged users

binauralGenerator is a binaural/monaural beats generator which work by frequencies! Extremely low resources taken! Require playing or recording state to generate beats.

Most easy way to create healing music

Features:

Continuous tones generator
Four wave shape selector
Few presets with binaural frequencies, high state of consciousness, out of body, astral projection
Solfeggio frequencies presets
Left-right reverse
Binaural and monaural beats selector
Fade when change the frequencies

Requirements:

DAW (VST host), Windows 32/64bits

or MacOS VST and AU

Changelog:

1.04 (2019-09-13)

FIXED: some incompatibility solved

1.03 (2019-04-13)

ADDED: show effect version

1.02 (2018-08-11)

ADDED: effect version, compatible now with Audacity

1.01 (2016-12-27)

UPDATE: reduced memory consumption

Keywords:

plugin

,

fade

,

presets

,

generator

,

audio

,

selector

,

binaural

,

solfeggio

,

music

,

changelog

,

requirements

,

beats

,

frequencies

,

left-right

,

monaural

,

reverse

,

projection

,

binauralgenerator

If you like this free product, please support our work making a donation. Without your donation
we can not continue to create other cool plugins!

Frequency of sound that prevent & kills coronavirus
Frequency of sound that prevent & kills coronavirus:

10.5 Hz - Stimulating for the immunity system

528 Hz - It helps your body restore your DNA to its original, healthy state. With repaired DNA, you will feel more energic. Used by genetic scientists to mend DNA/strengthens cell wall to boost immunity. Its one of Solfeggio tones.

780 Hz - Rife frequency to heal Pneumonia
Date: 2020-03-14 by
NaturalWave
Check this video demo
I made a youtube demo for this plugin





Thanks for the freebie :)
Date: 2018-11-02 by
AustinStudio