BinauralGenerator - Free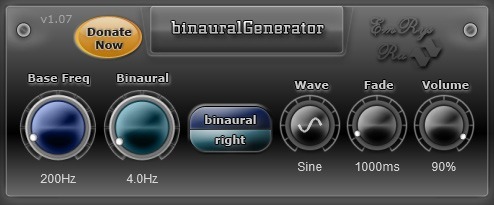 Download free: only logged users

binauralGenerator is a binaural/monaural beats generator which work by frequencies! Extremely low resources taken! Require playing or recording state to generate beats.

Most easy way to create healing music

Features:

Continuous tones generator
Four wave shape selector
Few presets with binaural frequencies, high state of consciousness, out of body, astral projection
Solfeggio frequencies presets
Left-right reverse
Binaural and monaural beats selector
Fade when change the frequencies

Tips:

Value input by key: over the knob and right click, insert value by key then hit enter
Set default value: double click on the knob

Requirements:

DAW (VST host), Windows 32/64bits or MacOS VST and AU




The archive contains the effect and instrument version, use only one according with your needs. There are also two versions for architecture of 32bits and 64bits, use only one of them.

Changelog:

1.07 (2021-04-11)

1.05 (2020-05-16)

1.04 (2019-09-13)

FIXED: some incompatibility solved

1.03 (2019-04-13)

ADDED: show effect version

1.02 (2018-08-11)

ADDED: effect version, compatible now with Audacity

1.01 (2016-12-27)

UPDATE: reduced memory consumption

Keywords:

music

,

frequencies

,

changelog

,

beats

,

monaural

,

binauralgenerator

,

projection

,

reverse

,

fade

,

binaural

,

selector

,

generator

,

presets

,

requirements

,

plugin

,

audio

,

solfeggio

,

left-right

If you like this free product, please support our work making a donation. Without your donation
we can not continue to create other cool plugins!

Frequency of sound that prevent & kills coronavirus
Frequency of sound that prevent & kills coronavirus:

10.5 Hz - Stimulating for the immunity system

528 Hz - It helps your body restore your DNA to its original, healthy state. With repaired DNA, you will feel more energic. Used by genetic scientists to mend DNA/strengthens cell wall to boost immunity. Its one of Solfeggio tones.

780 Hz - Rife frequency to heal Pneumonia
Date: 2020-03-14 by
NaturalWave
Check this video demo
I made a youtube demo for this plugin





Thanks for the freebie :)
Date: 2018-11-02 by
AustinStudio