EasyGater - Free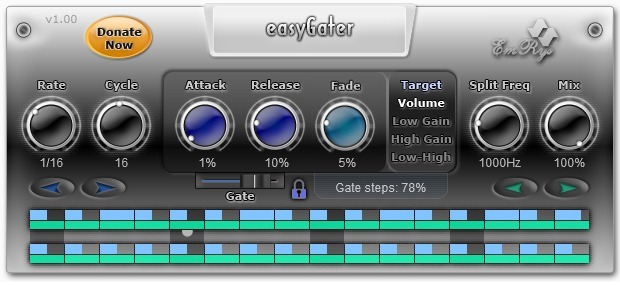 Download free: only logged users

easyGater it's a sequenced gater plugin which modulates the volume of an audio input signal. Very low resources taken!

You can now easily increase the dynamics and synchronization of your songs.

Features:

32 steps synchronized with the host. Each step can be set as duration but also as volume. Triplet and Dotted mode supported.
Can to set the speed (rate synchronized with host).
Set the length of a cycle.
Attack and Release for each step. You can also set the transition between steps with different volume in the Fade knob
You can change the volume target at the output of an internal filter: Low Gain, High Gain and oscillations between Low and High. You can also set the frequency that split the Low and High frequencies values
You can change the global time for all steps. You can to lock the steps set as tie so that the decrease of the global time gate does not decrease the time for the tie(link) steps.
You can change the values of the steps globally as time (blue arrows on the left) and as volume (green arrows on the right).
Few presets useful for a few musical genres: Trance, House, Groove.

Tips:

Value input by key: over the knob and right click, insert value by key then hit enter
Set default value: double click on the knob

Requirements:

DAW (VST host), Windows 32/64bits

or MacOS VST and AU

Keywords:

attack

,

host

,

sequenced

,

steps

,

volume

,

triplet

,

frequencies

,

house

,

fade

,

groove

,

dotted

,

gate

,

trance

,

release

,

time

If you like this free product, please support our work making a donation. Without your donation
we can not continue to create other cool plugins!

EasyGater
Hi there! well done for your excellent project, the "EasyGater"!
Using a 32 step interface will always be more interesting than a 16 step one, as it will sound a bit less repetitive.
However, I was thinking of adding more groove to my tracks with a 64 step based trance gate with the Tempo playing twice faster (TempoSync x2)
Would you consider working on such a project in exchange for a donation, by any chance ?
In short: you pick up your initial "EasyGater" code and you add 2 more lines down the bottom...
Please let me know either way!
Many thanks & Regards!
>
Attachment : "EasyGater_64Steps.png"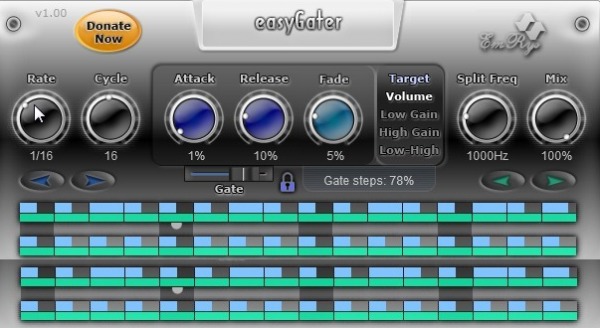 Date: 2021-02-06 by
MorleyMichelson1887
We have no plans to do that yet. Especially since that means a lot to change in the code.
Date: 2021-02-07 by
SaschArt