EasyGater - Free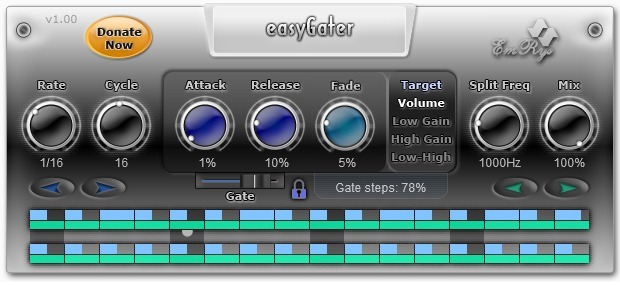 Download free: only logged users

easyGater it's a sequenced gater plugin which modulates the volume of an audio input signal. Very low resources taken!

You can now easily increase the dynamics and synchronization of your songs.

Features:

32 steps synchronized with the host. Each step can be set as duration but also as volume. Triplet and Dotted mode supported.
Can to set the speed (rate synchronized with host).
Set the length of a cycle.
Attack and Release for each step. You can also set the transition between steps with different volume in the Fade knob
You can change the volume target at the output of an internal filter: Low Gain, High Gain and oscillations between Low and High. You can also set the frequency that split the Low and High frequencies values
You can change the global time for all steps. You can to lock the steps set as tie so that the decrease of the global time gate does not decrease the time for the tie(link) steps.
You can change the values of the steps globally as time (blue arrows on the left) and as volume (green arrows on the right).
Few presets useful for a few musical genres: Trance, House, Groove.

Tips:

Value input from keyboard: go over the knob and right click, insert value from keyboard then hit enter.
Set default value: double click on the knob

Requirements:

DAW (VST host), Windows 32/64bits

or MacOS VST and AU

How to Install

- instructions page specific for easyGater and EULA.

Changelog:

1.02 (2021-06-04)

FIXED: hidden GUI problem on LogicPro solved

Keywords:

steps

,

sequenced

,

trance

,

groove

,

gate

,

time

,

release

,

volume

,

fade

,

frequencies

,

host

,

attack

,

dotted

,

triplet

,

house

If you like this free product, please support our work making a donation. Without your donation
we can not continue to create other cool plugins!

Users comments
Fixed on Logic
Good news I see. Despite comments from YStudio and Mtherapy on here about Logic being faulty with the GUI you've now put a fix on. Shame no one mentioned this under my original comment about the GUI, and allowed their dismissive comments to go unchallenged.

Anyway, fixed now apparently so I'll check it out and if any good I'll update on Sound Gym.
Date: 2021-06-08 by
spikemangoeswoof
Works!!
Seems to work now. This is a nice little rhythmic gate plugin and with the GUI working, very easy to get the sound you want. Thanks folks
Date: 2021-06-09 by
spikemangoeswoof
You have to use the contact page for that, not the comments page. I had also lot of problems with Logic Pro. Initially, it could not open it, always download the content. Then don't show the playhead, AU Manager disappear and more others...
Date: 2021-06-15 by
Tevdas
Easygater gui gone funny
Hello

When I first downloaded and opened it it was ok. But i tried again and the gui has changed to this. I've deleted it, reloaded it, changed projects, everything - I don't seem to be able to get the proper gui back

Can you help please?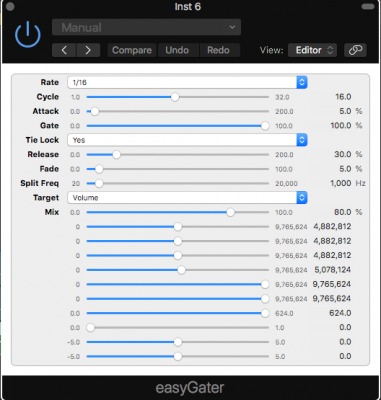 Date: 2021-05-07 by
spikemangoeswoof
That is the parameters interface, GUI must be shown by DAW. So it's a DAW bug, change your DAW.
Date: 2021-05-08 by
YStudio
I guess, your DAW it's Logic Pro, it's the program with most problems. Try a superior one, like Reaper, if the plugin works on Reaper, means Logic Pro it's your problem.
Date: 2021-05-09 by
Mtherapy
There's nothing wrong with Logic, plenty of people use it. What's the point of developing an AU version of this plugin if you're not going to get it to work properly in Logic?
Date: 2021-06-03 by
spikemangoeswoof
https://www.ibloc.org/e_bloc_app_s