TwinCrusher - Free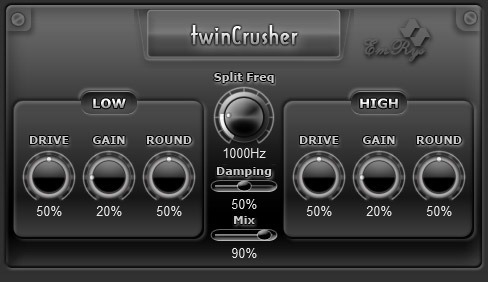 Download free: only logged users

twinCrusher it's a two band distortion with overdrive algorithm and round (antialias) feature. Extremely low resources taken!

Your guitar, drums and leads will sound very cool!

Features:

Two band overdrive distortion for high and low frequencies
Gain and drive amount for each band
Round knob make sound smooth and round to avoid aliasing and reduce peaks and sharp. On low values this knob insert nice harmonics.
Nice presets for guitar, drums, lead and others.

Requirements:

DAW (VST host), Windows 32/64bits

or MacOS VST and AU

Changelog:


1.01 (2018-10-16)

UPDATE: improved compatibility with some hosts and add Bypass Ceil parameter to iddle the plugin when no audio input

Keywords:

guitar

,

peaks

,

sound

,

insert

,

aliasing

,

distortion

,

bits

,

knob

,

drums

,

round

,

presets

,

lead

,

plugin

,

sharp

,

band

,

vst

,

overdrive

,

twincrusher

If you like this free product, please support our work making a donation. Without your donation
we can not continue to create other cool plugins!

Maybe it's better to be negative on round
I tested this distortion with a round of less than 50% and indeed introduced some very cool resonant harmonics :)

Perhaps, it would be better if the range of 1-50% to note it negative to avoid confusion...
Date: 2017-05-28 by
Onlymusic
The key is round knob
The key to this distortion seems to be round knob. At less than 50% values, insert some very cool harmonics ♣

If we set values lower than 50% on high side and over 50% on low side to not destroy basses this plugin it does miracles!

I use it with excellent results on the drum line.

Thanks SaschArt for this freebie!
Date: 2017-04-14 by
YStudio