AdsrFilter - Free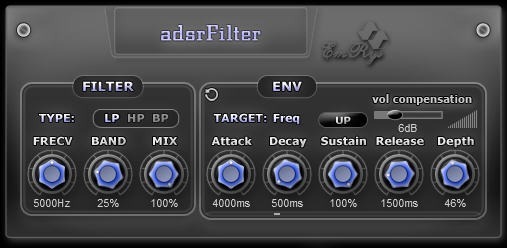 Download free: only logged users

adsrFilter is a filter with ADSR envelope which can modulate filter frequency, bandwidth and filter mix! Extremely low resources taken!

Features:

One filter with lowpass, highpass and bandpass.
Bandwidth and filter mix.
ADSR envelope with unique up/down mode.
Volume compensation for ADSR with crescendo side to right, left or both.
Visualization of modulated parameter value.
Presets for uplifting, glissando and bandwidth by octaves.
Midi reset button.

Tips:

Value input by key: over the knob and right click, insert value by key then hit enter
Set default value: double click on the knob

Requirements:

VST host and Windows 32 or 64bits

Keywords:

presets

,

adsr

,

bandwidth

,

modulated

,

host

,

envelope

,

requirements

,

parameter

,

glissando

,

filter

,

bits

,

adsrfilter

,

visualization

,

uplifting

,

button

,

reset

,

midi

,

windows

If you like this free product, please support our work making a donation. Without your donation
we can not continue to create other cool plugins!

Dope!
This tool is really amazing just tried it out!
Date: 2018-09-13 by
kapture
Works Great!
Just used it helped me out immensely when I couldn't find an ADSR VST anywhere. the built in one for LMMS didn't support Soundfonts really helped me get rid of the annoying clicking at the end of bass notes. Donation coming your way.
Date: 2017-04-17 by
Keenan24680