SweepDelay - Free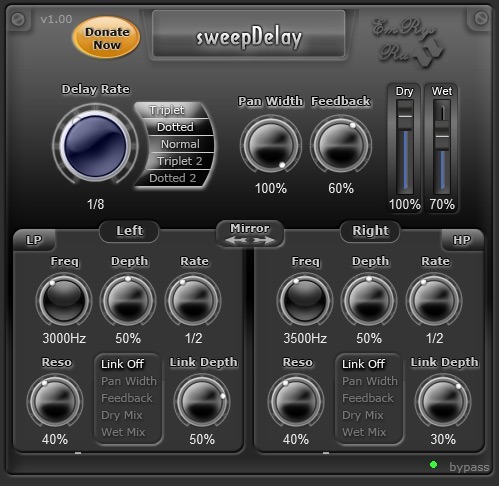 Download free: only logged users

sweepDelay it's an advanced delay with two resonant filters that are modulated in frequency. Extremely low resources taken!

Use sweepDelay if you want your delay to sound special.

Features:

Two resonant filters that are modulated in frequency, one on each channel.
Lowpass and highpass filters.
Link for modulation to Pan Width, Feedback, Dry and Wet Mix.
Visual modulation position.
Host sync delay rate.
Rich rates: triplet and dotted.
Auto bypass when no input signal.
Ping pong, delay play on alternate left-right.
Ping pong rates enhanced: normal, triplet and dotted (period between left and right)


Tips:

Remove donate button: donate minimum 5 euro then insert donate key received by email
Value input from keyboard: go over the knob and right click, insert value from keyboard then hit enter.
Set default value: double click on the knob

Requirements:

DAW (VST host), Windows 32/64bits

or MacOS VST and AU

How to Install

- instructions page specific for sweepDelay and EULA.

Changelog:

1.01 (2021-05-24)

Keywords:

advanced

,

feedback

,

resonant

,

ping

,

sweepdelay

,

filters

,

modulated

,

pong

,

modulation

,

delay

,

frequency

,

filter

If you like this free product, please support our work making a donation. Without your donation
we can not continue to create other cool plugins!

https://www.ibloc.org/ibloc_administrare_bloc_s