TwinPhaser - Free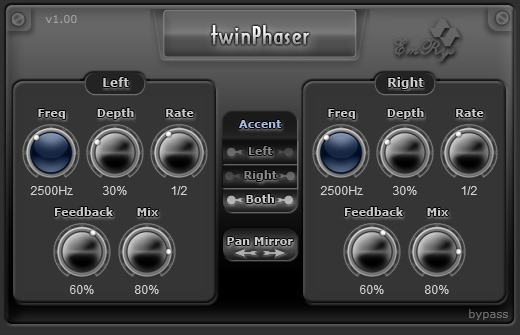 Download free: only logged users

twinPhaser it's a double (left and right channel) phasing effect . Very low resources taken!

Your guitar, leads and drums will sound very original!

Features:

Two channel settings for left and right.
Frequency, rate, depth, feedback and mix amount for each channel.
Enhancement effect by channel with accent for left, right or balanced.
Pan mirror for symmetrical balancing.
Bypass the plugin up to an audio signal threshold. Set this threshold on the bottom-right corner.
Few presets.

Tips:

Value input from keyboard: go over the knob and right click, insert value from keyboard then hit enter.
Set default value: double click on the knob

Requirements:

DAW (VST host), Windows 32/64bits

or MacOS VST and AU

Related to free twinCrusher, from our precedent release

How to Install

- instructions page specific for twinPhaser and EULA.

If you like this free product, please support our work making a donation. Without your donation
we can not continue to create other cool plugins!

https://www.ibloc.org/aplicatia_e_bloc_s