BinauralTones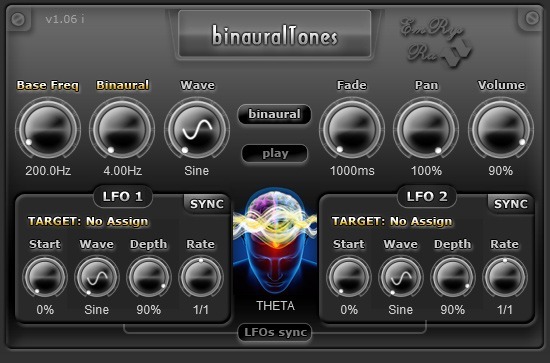 Price: 30.00 €

binauralTones is a binaural beats generator for music therapy and brain wave entertainment which work by carrier and binaural waves. The generator have two LFOs modulators. It takes extremely low resources!

Professional way to create healing music

Features:

Continuous tones generator
Eight waveforms, classic and based on the golden number waves. You can find more informations about golden waveforms
Large frequencies ranges: up to 20000.0Hz base frequency (can set with decimals), binaural beats up to 512.00Hz
Binaural pan which can set the position of binaural from right to left and can reverse the binaural.
141 presets with most important binaural frequencies, high state of consciousness, out of body, astral projection, healing, chakras, Schumann resonance, planets frequencies etc
Healing tones and Solfeggio frequencies presets.
Binaural or simple wave generator selector.
Fade when change frequencies with range up to 90seconds.
Brainwave range detector: epsilon, delta, theta, alpha, beta, gamma and lambda.
Two LFO working synchronously with host or free with start position of oscillating.
LFOs can to modulate frequencies, binaural pan and volume.
Sync host to free correlating after SYNC button click.
LFOs sync button will synchronously positions of LFOs.

Requirements:

DAW (VST host), Windows 32/64bits

or MacOS VST and AU

Changelog:

1.04 (2019-08-27)

FIXED: improved compatibility with Logic & OS X

1.03 (2019-04-28)

FIXED: some incompatibility solved

1.02 (2018-09-26)

UPDATE: improved compatibilities

1.01 ( 2018-08-12 )

ADDED: effect version, compatible now with Audacity

Keywords:

vst

,

healing

,

binaural

,

low

,

planets

,

waveforms

,

golden

,

waveform

,

frequencies

,

music

,

presets

,

continuous

,

generator

,

consciousness

,

beats

,

resources

,

plugin

,

wave

,

features
Frequency of sound that prevent & kills coronavirus
Frequency of sound that prevent & kills coronavirus:

10.5 Hz - Stimulating for the immunity system

528 Hz - It helps your body restore your DNA to its original, healthy state. With repaired DNA, you will feel more energic. Used by genetic scientists to mend DNA/strengthens cell wall to boost immunity. Its one of Solfeggio tones.

780 Hz - Rife frequency to heal Pneumonia
Date: 2020-03-14 by
NaturalWave
Hemi-sync frequencies
Here are the Monroe Institute frequencies used in the Hemi-Sync program:


- Focus 03: 59sec [1.2Hz], 110sec [1.3Hz], 288sec [3.7Hz]
- Focus 10: 100sec [1.5Hz], 200sec [4.0Hz], 250sec [4.0Hz], 300sec [4.0Hz]
- Focus 12: 100sec [1.5Hz], 200sec [4.0Hz], 250sec [4.0Hz], 300sec [4.0Hz], 400sec [10.0Hz], 500sec [10.1Hz], 600sec [4.8Hz]
- Focus 15: 100sec [1.5Hz], 200sec [4.0Hz], 250sec [4.0Hz], 300sec [4.0Hz], 500sec [7.05Hz], 630sec [7.1Hz], 750sec [7.0Hz]
- Focus 21: 200sec [4.0Hz], 250sec [4.0Hz], 300sec [4.0Hz], 600sec [16.2Hz], 750sec [15.9Hz], 900sec [16.2Hz]
- Focus 22: Same as F21
- Focus 23: 400sec [3.9Hz], 503sec [4.0Hz], 600sec [4.0Hz], 750sec [3.9Hz], 900sec [4.0Hz]
- Focus 24: 50sec [0.75Hz], 400sec [3.9Hz], 503sec [4.0Hz], 600sec [4.0Hz], 750sec [4.0Hz], 900sec [4.0Hz]
- Focus 25: 503sec [4.0Hz], 600sec [4.0Hz], 750sec [4.0Hz], 900sec [4.0Hz]
- Focus 26: 400sec [3.9Hz], 503sec [4.2Hz], 600sec [4.0Hz], 750sec [4.0Hz], 900sec [4.0Hz]
- Focus 27: Same as F26
Date: 2020-01-17 by
Mtherapy
Audio Spectrum Converter
Lot of research has been done on therapeutic waves coming out of the audio spectrum or having frequencies too high to be supported by the human ear. For example, Hulda Clark clinically tested some frequencies at 30KHz
We made a converter based on the octave unison principle to find the series of harmonics that have about the same effects on the organs of the human body.
I hope you find it useful!
http://vst.saschart.com/audio_spectrum_converter.php
Date: 2020-01-02 by
SaschArt
Hemi-sync presets
I made a few presets based on the frequencies used to the Monroe Institute in the Hemi-Sync program.

- Focus 03 - prepares your body to focus 10
- Focus 10 - brain awake, body asleep
- Focus 12 - expanded awareness, in the mood to head out and explore
- Focus 15 - no time, 3 hours seems like 2 minutes
- Focus 21 - alternate energy systems, bridge into worlds with non-human entities

I hope it helps :)


Date: 2018-01-22 by
Mtherapy
Already done David
Please check more carefully!

1. It's already done as you want. Right click on the knob and you will see the field where can insert the value from the keyboard.

2. Already done too but on the binauralSynth and goldenSynth


Date: 2018-01-15 by
SaschArt
Interesting Plugins, but...
You have some serious problems with the UI.
1. The Base Frequency Knob is extremely difficult to dial in a specific frequency. You need to allow users to type in the exact frequency they want.
2. Why do you not allow midi input from the keyboard in order to determine the base frequency. This would make the plugin SO much easier to use.

These problems are present on both Binaural and Isochronic. I'd suggest you fix both if you actually want people to use these plugins in a serious way.

David
Date: 2018-01-15 by
ddmcleod