OneSample - Free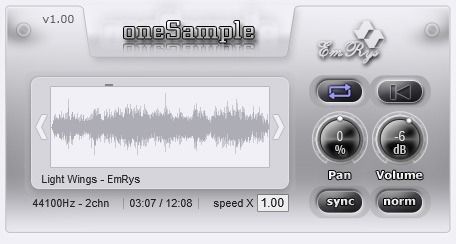 oneSample it's a simple sample player with only one sample and no midi input, simple palying only!

Features:

Visual peaks area and information about audio sample. cam load wav, ogg and mp3 files.
Loop and reverse commands.
Pan position and volume out.
Visual position playing and playing speed.
Host sync and peek normalization buttons - norm button mean peeks normalization
Start as parameter - can insert envelope for this parameter. With this you can to start sample playing

to a certain point in time

.
Few presets

containing settings for subliminal

s.

Note that it is necessary to press normalize button for an optimal subliminal level

Tips:

Value input by key: over the knob and right click, insert value by key then hit enter
Set default value: double click on the knob

Requirements:

DAW (VST host), Windows 32/64bits

How to Install

- instructions page specific for oneSample and EULA.

If you like this free product, please support our work making a donation. Without your donation
we can not continue to create other cool plugins!

https://www.ibloc.org/ibloc_administrare_bloc_s